Customized Hats Embroidery
Custom Embroidered Hats
Maybe it's your brand, maybe it's simply yourself, but you have your own image. You have your own style, and your hat should reflect who you are. The stores might have lots of options, but none of those options are your own. You need a custom baseball hat or snapback that works to your personality and design, which is why you need Coast Embroidery.
Getting embroidered hats has never been easier than with Coast Embroidery. Whether you need customized hats for your company, for a family reunion, or have been eyeing up Chance the Rapper's "3" hat for minute, we can hook you up with the custom embroidery you've been looking for.
The process is simple:
Come up with your design, including logo and color of hat

Decide on number of hats needed (minimum order is 12)

Submit your design needs on our

contact page

Hear back from our team in no time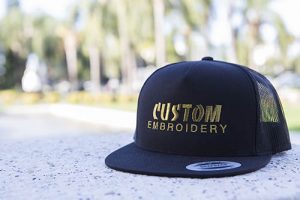 When you work with Coast Embroidery, you're getting customized hats that are as personal and unique as you are. Your embroidered hats can spread brand awareness, provide merch for your band, be a gift to your employees, and everything in between. Check out our Instagram, and contact us today to get customized embroidery that resonates from coast to Coast.